Internal parasites are a major health problem affecting sheep and goats, particularly the blood sucking abomasal parasite, Haemonchus contortus(barber pole worm). This parasite is a major threat because once in the abomasum of the animal, it consumes large amounts of blood causing sickness and death that can hinder production. In addition, this parasite is very difficult to manage. There is data showing that this parasite has shown resistance to all available dewormers in United States and across the world. Local data has demonstrated that there is a high level of resistance to the benzimidazole classes (white drenches) of dewormers and ivermectin in Delaware and surrounding states. Therefore, a more integrated approach is needed to control this parasite.  Deworming by the calendar and rotating classes of dewormers are no longer recommended for sheep and goats. Furthermore these out of date management practices are ineffective and contribute to internal parasite resistance issues.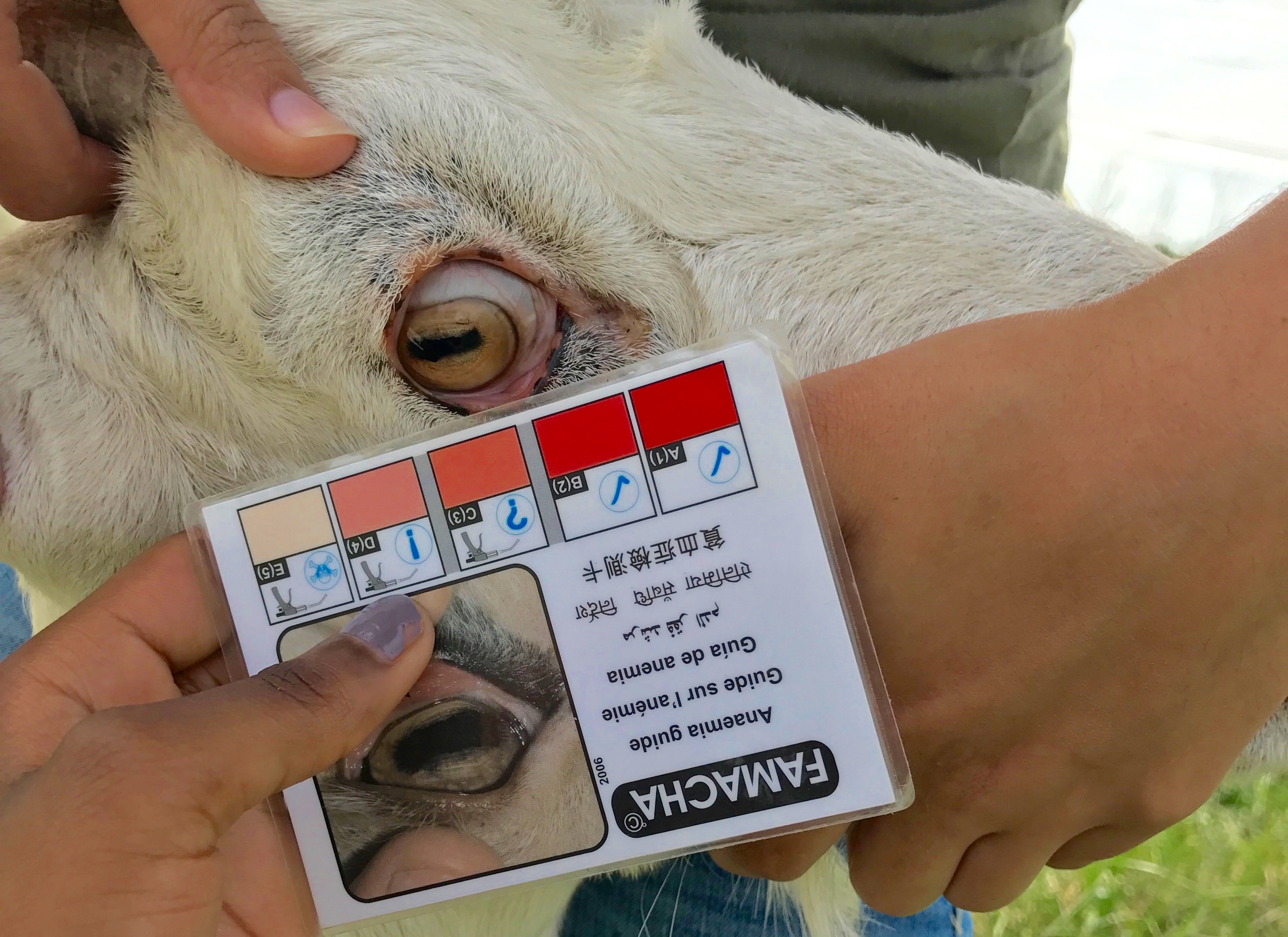 The Delaware Cooperative Extension Small Ruminant Team is holding a FAMACHA© certification workshop via Zoom on Wednesday, June 10, 2020 from 6:00 pm-8:00 pm.  The cost of the workshop is $15.00 to pay for the FAMACHA© cards and the postage to mail them to producers. Registration is required.
This upcoming workshop is designed to help producers learn the basics of selective internal parasite control and covers topics such as types and kinds of parasites, dewormers, the role of pasture management, the 5 Point Check©, FAMACHA© and FEC. Join us as we provide training to certify producers in the use of FAMACHA© score card and an integrated approach to parasite control in small ruminants.
To register visit: https://www.pcsreg.com/learn-integrated-parasite-control-and-get-certified-in-famacha Once registered you will receive an email link to access the Zoom training.  After completing the webinar, producers will be required to pass a short web based quiz and submit a short video clip demonstrating their proficiency in the FAMCHA© push-pull-pop eyelid technique in order to complete their certification requirements.  For questions please contact a member of the Delaware Cooperative Extension Small Ruminant Team- Susan Garey truehart@udel.edu , Dr. Kwame Matthews, PhD kmatthews@desu.edu or Dan Severson severson@udel.edu
This institution is an equal opportunity provider. If you have special needs that need to be accommodated, please contact the office two weeks prior to the event.