Campus and Local Events
March Campus News and Events
Routes
Dance Performance choreographed by Lisa Wilson & Annual UD Dance Minor Concert
Friday & Saturday, March 4-5 | 7:30 p.m.
Mitchell Hall
The Office of Graduate & Professional Education and the UD Graduate Student Government (GSG) has extended the deadline for abstract submissions for the Sixth Annual University of Delaware Graduate Research Forum to Friday, 4 March 2016!
You are invited to submit your proposal for an oral or poster presentation, or presentation of creative works, via the Google Form at http://tinyurl.com/GRF2016-Abstract.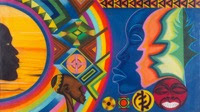 Through May 15: African American art
The University Museums of the University of Delaware will present the exhibition "Blue and Black: African Rainbow," on view through May 15 in the Mechanical Hall Gallery.
February Campus News and Events
The Institute for Global Studies has announced that it has been
selected for a third year as a partner with the Mandela Washington
Fellowship for Young African Leaders. http://bit.ly/20XYOiI
UD students can register now for the Martin Luther King Jr. Day of
Service to be held Saturday, Feb. 20, by Residence Life and Housing and
the Blue Hen Leadership Program. http://bit.ly/1TgeCbO
6th Annual Graduate Research Forum: Our flagship event, hosted in collaboration with the Office of Graduate and Professional Education, provides an outstanding opportunity for all graduate students to share their work in a professional, yet friendly environment. The Forum this year takes place on Thursday, April 28. Abstracts for oral, poster, or creative presentations are due on Monday, February 29, so make sure to submit yours today! Additional information is available at the website.
Professional Development Workshops: The GSG Events Committee is currently working on a couple professional development workshops during the lead-up to the Graduate Research Forum, including a workshop on building your professional digital presence (web, social media, etc.), and workshops on presenting research to a more general audience. More details on these workshops will be coming soon!

UD's Career Services Center is launching its first Internship and Job
Drive challenge, which seeks to inspire the University's network of
alumni, parents and friends to become more actively engaged in helping
UD students get full-time positions at their workplaces.
http://bit.ly/1PCS9Sk
The Office of Development and Alumni Relations (DAR) is seeking
enthusiastic undergraduate students to serve as UD Student Alumni
Ambassadors (UDSAAs). http://bit.ly/1mFQnFM

UD is now seeking nominations for the Excellence in Teaching Award for
faculty and graduate students and for the Excellence in Undergraduate
Advising and Mentoring Award.  http://bit.ly/1KUq9ec

The  Writing Center is now open for spring semester, offering
one-on-one and small-group tutoring by appointment and, in its second
location, some drop-in hours as well. http://bit.ly/1VjJYMp
Students, staff and faculty filled the Multipurpose Rooms of the
Trabant University Center on Thursday, Feb. 11, to discuss issues
related to diversity, equity and inclusion at an open forum with Acting
President Nancy Targett. http://bit.ly/1QjcgIK
Opportunity: Africa 2015 will be held on Friday, November 6 at the Sheraton South Wilmington. This event connects Delaware businesses, faith communities, and individuals with top experts on Africa, offering insight on trade opportunities and issues including human rights challenges, sustainable development, food security, and global health.
U.S. Senator Chris Coons founded the free, day-long conference in 2012 while serving as chairman of the Senate Foreign Relations Subcommittee on African Affairs.
This years' conference will be held on Friday, November 6 at the Sheraton South Wilmington Hotel.
"The goal of this conference is to connect people, businesses, the faith and diaspora communities across Delaware who are interested in or connected to Africa," Senator Coons said in his opening remarks at the 2012 conference. "It is my hope that we can strengthen and sustain these connections across our state with this most important of continents, and raise our voices together."
Combined, more than 2,000 people have attended an Opportunity: Africa conference, hearing from keynote speakers including former President Bill Clinton and the heads of USAID and the Millennium Challenge Corporation.
---
Free Lunch Fridays
@
Every Friday, 11:15 AM to 12:15 PM
Free Lunch Friday is an event that features a local entrepreneur or business owner in a informal setting. Presentations are brief and there is time for question and answer. All students are welcome to come and listen, ask questions or simply enjoy the free lunch!
This is a great opportunity to make a connection with a local professional without having to leave campus. We hope to see you there this semester!
---
From Carnival to Carnival
International Late Night Event
Sponsored by OISS
October 16, 9:00 PM-1:00 AM
Perkins Student Center
OISS International Coffee Hour
Every Friday, 
4:00-6:00 PM
The Wright House at 44 Kent Way
Study Abroad Advising Hours
Every Wednesday, 1:00-3:00 PM
Elliott Hall (26 E. Main Street)
*no appointment necessary
---
Begin Thinking About Fulbright
Attend a fall information session on

November 2

or 3.
Are you considering post-graduation plans and looking for an opportunity to research, teach, or study abroad? Attend a Fulbright U.S. Student Program information session to be held on
November 2 and 3

at 3:30 PM in 116 Brown Hall.
The Fulbright Program is the premier international education exchange program in the United States.  Designed to increase mutual understanding between U.S. citizens and people of other countries, the program offers over 2,000 awards to students annually. Grants provide round-trip transportation, monthly living stipend, health & accident insurance, and more. Undergraduate seniors, graduate students, and recent alumni are eligible to apply for a Research/Study Award, English Teaching Assistantship, and other special grants in one of 140+ countries around the world.
Look for a world of opportunities during Global Month!
Each November, the University comes together to celebrate all things global at UD to coincide with the Department of State Bureau of Educational & Cultural Affairs'
International Education Week
!
Known as Global Month, over 10 campus partners will collaborate to bring you a month packed with speakers, film series, movie showings, concerts, workshops, networking opportunities, and more– all designed to bring out the global citizen in you!
Visit the
website
for more information and for a full calendar of events. To share your Global Month experiences, tag @UDGlobal on
Instagram
and
Twitter
, and engage using the hashtag #UDGlobalMonth.
International is for Everyone! Most events are free and open to the public.
---
---
Diversity Day/ Grad Meet and Greet
September 18, 21015
The Speakeasy @ 44 Kent Way
7PM
Bring your UD student ID!!
**Drop by the PAIA table for a chance to win a Speakeasy giftcard!!
---
Mandela Washington Fellows Visit UD
0:46 a.m., Sept. 2, 2015–Delaware education experts, administrators, teachers, and students came together last month with the University of Delaware's Mandela Washington Fellows for an in-depth tour of education in the First State.
During a morning panel with representatives from the Delaware Department of Education, Rodel Foundation, 1313 Innovation Center, Colonial School District, TeenSHARP and Thomas Edison Charter School, the fellows had the opportunity to gain perspective on the challenges, goals and successes of the local education system.
The experts addressed topics including finance, governance, curriculum development and equality in education, among others.
The 25 young African leaders also took the opportunity to make connections and seek guidance on implementing policies aimed at creating access to a sound education in their home countries.
"Education enlightens. It helps people acquire skills. Education makes people explore the limitlessness. Education frees," said Nadege Afoutou, a 2015 UD Mandela Washington Fellow and current chair of Education, Citizenship and Change in Togo (E2CTogo).
For Afoutou and many other fellows who are at the forefront of addressing issues of education, this day was a pivotal experience in their Mandela Washington Fellowship journey.