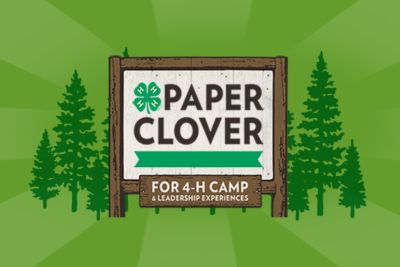 About 4-H & Tractor Supply Co.
Tractor Supply stores in communities across the country have long supported 4-H clubs, and now, Tractor Supply Co. has entered into an official partnership with the National 4-H Council as your source for 4-H project supplies.
Paper Clover
Each Spring and Fall, Tractor Supply will help raise money for 4-H programs with the Paper Clover Campaign, a national in-store fundraiser that benefits 4-H programming.
2018 Fall Dates:
October 3- 14
Contribute during our 2018 fundraisers by:
1) Donating in store at the register. Click here for the store locator. 
2) Donating online at checkout when making a purchase on tractorsupply.com. (Donations will be assigned to states based on the shipping location).
3) Donating by phone when you call TSC Customer Solutions at 877-718-6750
Encourage your members and volunteers to participate at their local Tractor Supply Co. store during Paper Clover. Not only will this help donations and improve their relationship with their local store, they will also have the opportunity to enter the Paper Clover Participation Sweepstakes, where 75 clubs will win a $100 TSC gift card. Participation can be anything from setting up a display table and project boards inside the store to having clubs encourage customers to donate.
Partner with Tractor Supply Co.
TSC invites your club to get active with your local store if you are not already. Talk with your store manager about what activities and partnership opportunities exist in your area.
To get you started, here are some ideas on getting involved with your local store:
Hold fundraisers at your local TSC during holidays!
Valentine's Day: Sell Valentine's Day cards made by 4-H members
July 4th: Sell hot dogs and hamburgers
Fall: Carving pumpkins to sell
Winter Holidays: Set up a gift wrapping table
Set up educational livestock clinics in the parking lot of your local TSC store.
Ask your store about using your local TSC as a potential meeting site, field trip, or exhibition location.
Interested in partnering with your local Tractor Supply Co. Store?  Click here to learn how.