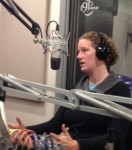 For this week's episode of Campus Voices, we talked with Michelle Bennett, who joined our campus August 2015 as UD's new sustainability manager.  Among other projects, she has offered feedback on the university's progress in fulfilling the 2008 Climate Action Plan to reduce greenhouse gas emissions by 20% by 2020.
We also discussed strategies for developing and maintaining personal sustainability habits, the relationship between technology and recycling, and landscaping to create self-sustaining watersheds.
Listen to the Interview
Michelle Bennett, Recorded March 21, 2016. Debut April 14, 2016.
29:45
27 MB
About our guest
Michelle Bennett began her professional career in environmental sustainability while still earning her MS in environmental studies, working for Macquarie University's Campus Experience and helping to reduce the energy and water consumption by at least 15%.  Since then, she has also worked as a research consultant for Climate Ventures Inc. and as an energy efficiency analyst for ICF International before coming to UD to work from the Office of Facilities, Real Estate, and Auxiliary Services.
Learn More
To learn more about the topics that we discussed, here are some of the links to the articles: