I hope that you had time to catch up or perhaps even get some rest and relaxation in during Spring Break. The Blog took an extended break too, skipping the February edition (not that anyone noticed!), but is now ready to get back to work. This edition highlights some of the changes we will see in 2014 as we implement the CANR Master Plan. First a little levity:
Q: How many faculty members does it take to change a light bulb?

A: Change, who said anything about change?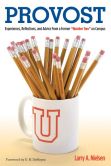 I was reminded of this old joke while reading some excerpts from Larry Nielson's book, Provost: Experiences, reflections and advice from a former 'number two' on campus. Larry is one of the funniest academics that I've ever met. The book is worth a read. He quips about the "glacial" pace of change that exists at many universities, and, on a more somber note, how this reluctance to change keeps us from reaching our goals in higher education. So, I'd like us to consider stepping up our game in 2014 and making some needed changes. Don't worry, we won't make the jump to light speed, but we will get out of second gear and get closer to cruising as the year unfolds.
College Master Plan Implementation. Last December, I gave you a homework assignment – tothink about Action Plans that derive from the Master Plan – each with concrete, measurable action items against which we can measure progress toward our stated goals. This involves answering the "how" and "when" questions that evolved from the "what" and "why" ideas that went into the Master Plan. During annual evaluations last month, I began to collect Action Plans from each unit leader, to be implemented starting no later than FY15 (some have started already). We're using a format taken from another book that I recommend: The 4 Disciplines of Execution, by McChesney, Covey and Huling (Free Press, 2012). The first discipline is

focus

; they cite a number of examples of strategic change failing in organizations that try to do too many things at once. Their advice is to focus on ONE

"wildly important goal," or WIG

– something that will move you forward more than anything else and throw everything you've got toward its execution. So, if you don't know the details of your unit's WIG, ask your unit leader to articulate it for you. Some of these need additional work, and some units have not yet finished, but here's what we've got so far (in no particular order):

ENWC

– Improve professional development for graduate students

APEC

– Enhance faculty mentoring

Communications

– Increase visibility of CANR via a college-wide communications committee designed to help uncover national/regional story ideas

PLSC

– Build a new undergraduate major in genetics and genomics and grow enrollment

Grants Administration

– Build a standardized policy and procedures manual for grants and contracts college-wide

Business Office

– Improve the execution of HR issues in the College by developing guidelines and training

Undergraduate Student Services

– Increase enrollment through better recruiting information

Facilities

– Address deferred maintenance issues in the College

Deputy Dean

– Develop the College's "One Health" initiative with CHS

Carvel Center

– Increase the contribution of the Carvel Center to teaching, student recruitment and engagement

Extension

(two WIG's!) – Implement the Planning and Reporting System, and build capacity in human health in Extension

Dean

(two WIG's) – Execute a strategy for Worrilow Hall renovations, and implement cost recovery college-wide
All WIGs will be in place by 1 July 2014 (some are underway now). Again, you should know not only your unit's WIG, but the performance measures that will allow you to track progress toward its execution (called lags and leads). It will take effort from everyone to accomplish these goals, so please think about your role in moving the College forward.
Changes to the CANR web site. I hope you have all taken the opportunity to view the new college web site: http://canr.udel.edu/. We've made a lot of changes to the look, feel, navigation, and, importantly, editing capabilities to give it a wow-factor and make it more intuitive and functional. Please remember that the site was designed with prospective students and their parents in mind, as we know the web is the #1 way that students find out about the College. I thank Nancy Gainer and her team for getting the new site up in time for Decision Days – undergraduate enrollment is absolutely critical to our future.
The College Bylaws need change. The Bylaws were last revised in May 2006 and a lot has changed since that time. To me, the most striking aspect is that there is no mention of Cooperative Extension throughout the document, yet this is clearly a major mission area for the College. We will discuss the Bylaws in more detail at the Spring Semester Faculty Meeting, which is May 20th at 9:30 am in 132 TNS. Tom Sims has appointed an ad hoc committee to revise the Bylaws: Eric Benson, Carmine Balascio, Steve Hastings, Corey Whaley and Greg Shriver. Please direct your feedback to this group.
Cost Recovery. Another item on the Spring Faculty Meeting agenda will be cost recovery. Beginning in FY15, we will be instituting usage fees for animals and cropland on our farms in order to recover some of the costs associated with their support. We simply can no longer make up the deficit between farm expenses and income from operating funds; the deficit is about $800,000 to $1M on the Newark Farm alone. As stated in the Master Plan, this will allow us to free operating funds for deferred maintenance and renovations needed to keep the College's infrastructure intact. Another aspect of cost recovery is including a small amount of graduate tuition on grants. The College waives well over $3.5M per year in tuition, and even if we recovered only a fraction of that amount on grants, we would easily double or triple the amount of funds available for deferred maintenance and strategic initiatives. Some of you are doing this already – and thank you – but we need everyone to get involved to have an impact.
Changes in faculty and staff. We have several ongoing searches and have welcomed a few new faces to the College in early 2014.

Business Officer – Following Katie Hutton's retirement, Kawkab Rasheed has taken on the role of "CFO" for the College. Kawkab came from the Budget Office in Hullihen, so she has lots of insight and background on financial affairs at UD. She is off to a great start in her new role.
Extension. Cooperative Extension has seen a number of changes in 2014. Dan Severson is now on board as the Ag Agent in New Castle County. In Sussex County, Jill Jackson has filled the position of 4-H Coordinator vacated following Mary Argo's retirement and passing. Rene Diaz has joined CANR to take on the Sussex County after school programs, and Lindsay Hughes has moved into the BOTVIN grant position. Finally, Karen Johnston has assumed a new role as grant manager for 4-H. Lots o' change!
Urban Forestry – PLSC has completed interviews for their Urban Forestry professorship. I expect their recommendation any day now, so we should be able to announce the successful candidate soon.
Longwood Program Director – Also completed is a round of interviews to find the successor to Bob Lyons who directs the Longwood Graduate Program. The search committee is presently deliberating and should have a recommendation soon.
Statistics. APEC has conducted several interviews over the past few weeks in a three-position cluster hire effort to rebuild our capacity in statistics after a series of departures. More than 170 applicants were screened, of which 6 have been interviewed thus far; one interviewee has accepted an offer to join us. We are trying to find two additional candidates as this search winds down.
Landscape Design Instructor. The first of three candidates is being interviewed this week. We hope to have the position filled by the time fall classes begin.
Animal and Food Sciences Department Chair. A search committee, chaired by Jake Bowman, has just been convened to find the next chair of ANFS as Jack Gelb returns to the faculty this summer. Limin Kung will be interim chair of ANFS until the permanent candidate is seated. Both internal and external candidates will be considered.

Adding faculty and staff awards. In FY15we're bringing back the CANR Teaching Award and launching new college-wide awards for research, Extension, and staff. We have set aside funds from our annual giving account to fund awards for individuals who have had great impact on teaching, research, Extension, and support. You could be the next recipient! Awards in each category will be made in alternate years, staggered so that we have awards given each year. The awardees will join the platform party at commencement to be recognized, and will each receive a cash award of a few thousand dollars. Details on eligibility, selection criteria, etc. are forthcoming.
Changes to the Townsend Commons. As you know, we received a Unidel grant last December to revitalize the Townsend Commons area and renovate two classrooms. Nancy Gainer is chairing a group of people who are envisioning a more vibrant, attractive, functional Commons (feel free to provide input to the group). They have held focus groups with students to determine what changes would be most beneficial in both the Commons and the classrooms. No matter what, next year's incoming class will find themselves in much better teaching facilities.
The Blog will be back in early summer. In the meantime, I hope that all goes well as you wind down the semester, ramp up the field season (or perhaps both!), and make changes that keep you at your very best.